Discussion Starter
·
#1
·

We had a very unique opportunity to go out for a full day's adventure with the crew from Fisher's ATV World. Brian and Melissa Fisher had been in contact with Discount Tire Direct to see if we would be interested in showing them some of our beautiful desert trails for one of their upcoming shows. Being that we are an Official Partner, we graciously accepted :thumbsup:
We decided to ride in the area known as Martinez Mine which is a huge 4x4 area that is used by ATV's, Side by Sides, Motorcycles, and 4 Wheel Drive vehicles. There are thousands of miles of trails and washes enjoyed by riders of all ages and skill levels. One could say there are trails from mild to wild.
This beautiful area is littered with old gold and copper mines which is why there are so many roads. The Martinez Mine is the biggest mine but there are many others throughout. This was a booming area for mining in the late 1800's through about 1950.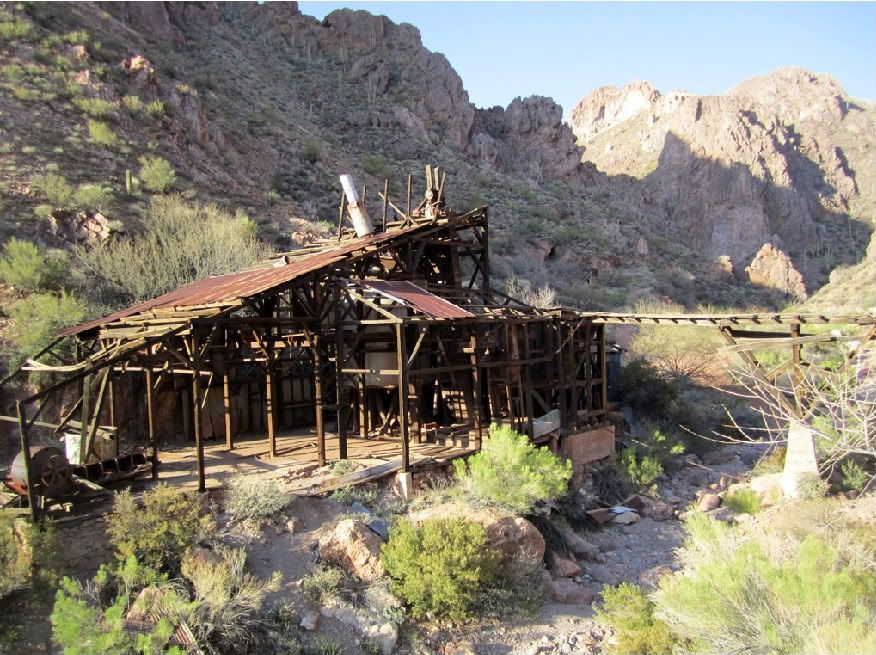 We met at 8:30 and prepared for the ride ahead. Being in the tire business, the guys from Discount Tire Direct went about checking their tire pressure before the ride.
Dan Meadows (Marketing Manager with DTD) had a presentation for Brian Fisher before we hit the trail.
While walking the beach in Maui his wife found an interesting rock. She reached down, picked it up, and said this looks just like Fisher's ATV logo. Brian loved the rock. He said it was going on his wall of mementoes in his office.
Let's Make it Real!!!
We headed off down the graded main road towards the mountains. Just after a cattle guard there is a steep trail down to the wash that loops you around to a steep climb back up to the road. I thought it would be a fun run to break up the road riding. This is where it got interesting. I guess Dan on Chad's Honda Rancher was not in the right gear as he hit the climb and as he down shifted towards the top of the hill his front wheels came up. Instead of going over backwards he hit the brakes. Unfortunately Jay was too close behind Dan and was forced to make a drastic and evasive maneuver to keep from hitting him. He ended up in a tree on the side of the trail. This was a good thing though because it kept him from rolling down the hill.
To show you what a great group of guys were on this ride here is a photo of the group helping Jay get to the top safely.
Our first stop on the main road was at an old cabin. Dan had decided to run into the back of Chad as we all stopped to investigate the cabin. There was plenty of razzing especially since Dan was riding one of Chad's machine's and he put dents in both of them. It was pretty funny because after he hit Chad's quad it threw him forward where he then hit the gas with his thigh causing the rear tires to sit and spin, pushing Chad out of the way.
Time to get off the main road.
Our next stop brought us to a challenging obstacle in Lower Woodpecker. This is one of many trails in the area that is listed in 4 wheel drive books.
I said I would go through first to show the way. I was on my good friend Bob's 2010 Polaris 850 XP with Power Steering. It turned much sharper and easier than I was used to so I didn't quite take the correct line but I made it through easily thanks to the help of his brand new Maxxis Cerros tires. Next up was Chad followed by Mark.
Chad was fun to watch as he kept getting high centered on a large rock going through the slot.
He did make it through with persistence and a little help from his friends.
Mark made short work of this obstacle thanks to the excellent traction from his Pit Bull Rocker tires.



At the top of the rock climb, just to the left in the rocks pictured below are several Indian Pictographs. It is always interesting looking at the old Indian drawings throughout this area.



It was time to get the train going again. Along the trail we came to a place where everyone has to go down a bolder strewn water fall. It just so happened that a couple of 4 wheel drive vehicles were coming down a steep trail next to us. Melissa ran over to the Jeep and talked to the driver. As it turns out they went down and up the steep part of the boulder crawl for her to get some video. They stopped to talk to us for a minute. It always amazes me at some of the people we meet out on the trail. This guy said he has driven Jeeps in this area for decades. He just enjoys taking people out to enjoy the beautiful mountains.



Now it was our turn.