We live in the deserts of Phoenix, Arizona where we only get about 7 inches of rain fall per year. Recently we had a HUGE rain storm so my buddy Jeff and I decided to go out for a ride and play in the normally dry, river beds.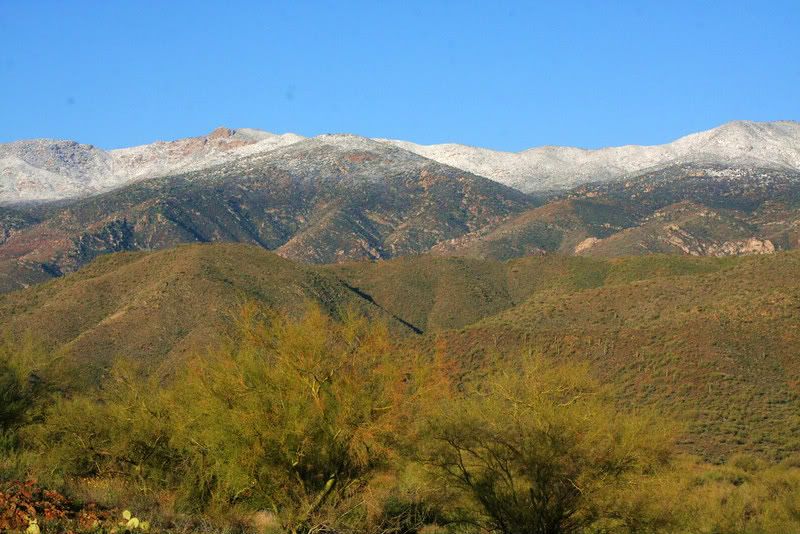 We headed out North of Black Canyon City into the foothills of the Bradshaw Mountains. With all the rain we had yesterday the snow level also dropped to about 4,000 feet so the mountains all around us were covered. It was a little chilly when we started as my truck read the outside temperature at 38 degrees F. It did warm up throughout the day to the mid 70's.
My original plan was to take Jeff to the 70 foot waterfall back in the mountains but we had a change in plans as we hit the 1st water crossing. The water was flowing pretty heavily in this area so I changed course as we came to a fork in the road. As we always say "if there is a fork in the road, take it."
We headed up a steep hill to the tops of the ridgeline where we had some fantastic views. This trail goes up and down several mountains while crossing the stream in several places. We found some unbelievable sights along the trail. At one of the water crossings there was an outstanding pool of water with rock formations. As we explored this closer we noticed some caves on the left. Upon closer inspection there was a huge bee honey comb inside one of the holes. The other larger cave appeared to be used by Javelina as sleeping quarters.
As we continue along up and down the ridgeline we came to a very rare sight. There was a huge Crowing Saguaro right beside the trail. I have been on this trail several times and never seen this. We know where several of these are, as many of you have seen from some of our other threads, but this one is by far the largest we have seen. The experts say this happens to 1 in 50,000 Saguaros. I would doubt there are that many as I only know of a handful and I would bet I have seen millions of Saguaros on our rides.
At this point we came to a spot where Jeeps go along the creek and at some points even in it. Keep in mind this is dry most of the year. What a ball rock crawling along the creek with water.